Planes, Trains & Automobiles
David Vincent | Photographer
SKY'S THE LIMIT
Flight Management Group, founded in 2007 by Brooks Pettit, recently went through a complete overhaul and rebranding. On Dec. 4, 2014, the company reemerged as Vaerus Aviation. Vaerus Aviation focuses on aircraft management and the sales and acquisition of aircraft. With the rebranding came a new name, logo and website.
"We have grown substantially in the last several years," Pettit, president of Vaerus Aviation, said. "The last few years, actually. This year we added nine employees and had revenues of about 46 percent above the year prior. We made the name change with the intent of as we acquire new businesses and continue to grow we wanted a name that suited us a little better for that."
Pettit was born and raised in Topeka. He learned to fly planes at the Topeka Billard Airport and over the years there made business connections with individuals in the aircraft industry. He eventually came to notice that there was a lack of competent aircraft management in the local area. There were plenty of planes and pilots, he said, but pilots didn't understand parts of operating aircraft such as maintenance, asset planning, and training and staffing new pilots. He saw an opportunity for the seizing right here in Topeka.
"A company that just owns an airplane and hires a pilot to come out and fly the airplane for them – that's not our business," he said. "Our business is total turnkey asset management."
As Flight Management Group saw more and more success, the company made a $40,000 investment in the rebranding to Vaerus Aviation. Expenses largely included attorney and legal fees, as well as new marketing expenses.
But this rebranding benefited more than Pettit's company. Vaerus Aviation continues to bring growth to Topeka. Pettit's hometown company exemplifies the opportunities in Topeka for those with determination and faith in the state capital.
"It was a substantial expense, and the good thing is all the money was spent with local companies," Pettit said.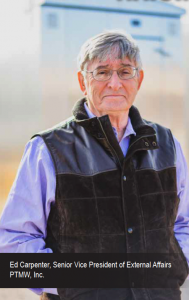 Ed Carpenter, SVP of External Affairs
RAISING THE BAR On the ground, PTMW, Inc., a metal enclosure and fabrication company, has made "massive" investments in Topeka, according to Ed Carpenter, senior vice presidentof external affairs. PTMW has long been involved in Topeka, and Carpenter shared evidence that it is here to stay.
"PTMW started out a long time ago simply selling products to the railroad industry," Carpenter said. "It got into the signal enclosure business back in the early '90s, and for a long time simply provided enclosures to the railroads. Now it does a great deal more."
Signal enclosures manufactured by PTMW, which look like large metal boxes, are used at railroad crossings. The enclosures contain all of the electronics and systems used to raise and lower the arms that halt traffic when trains pass by. So the next time arms come down at a railroad crossing to keep you from crossing paths with a freight train, chances are PTMW is behind it.
"That's probably the bread and butter of the business, although things are getting much more complex than they have been in the past," Carpenter said.
Like Vaerus Aviation, PTMW is growing. Carpenter estimated the company has grown on average 16 percent in gross revenues per year for the past seven or eight years. The number of permanent members PTMW employs has rocketed from 135 in 2009 to the 275 it boasts today. And with the growth has come investments.
"PTMW has made massive investments in the city of Topeka in the tune of acquiring the property that was the old Payless Shoe Source warehouse," Carpenter said. "It invested probably $3 million in renovating that facility so it could function as a manufacturing plant."
An additional $20 million was invested in equipment and other expenses for the new manufacturing plant. A $23 million investment in Topeka should speak volumes to investors and businesses considering investing here themselves.
Steve Maher, General Manager
BMW of Topeka and Volkswagen of Topeka
ROAD TO SUCCESS The Topeka market also caught the eye of Soave Automotive Group, a car dealership company based out of Kansas City.
Soave Automotive Group, in mid-October of 2014, acquired Sunflower Motors in Topeka, a BMW and Volkswagen dealership. Marketing manager Robert Hellweg said it was because of the brands Sunflower Motors represented—BMW and Volkswagen—and because of the growing market in Topeka, Lawrence and Manhattan.
"Being in Topeka is close to our home offices, and it also includes Lawrence and the Manhattan area, and it's an area, especially in the case of Manhattan, that's growing rapidly," Hellweg said.
Soave Automotive Group plans to renovate the communications system of its newly acquired dealership, and a remodel, pending the approval of BMW and Volkswagen, but no staff changes.
"It was a very experienced and dedicated staff," Hellweg said. "One of the attractive parts of [the acquisition] was the experienced and dedicated staff."
The name, however, will change to "BMW of Topeka and Volkswagen of Topeka."
As he looks to the future, Hellweg sees the new dealership proudly serving owners of BMW and Volkswagen automobiles, while becoming an esteemed member of the Topeka community.
"As we have in the Kansas City market, we plan to be not only a quality automobile dealership reflecting the products we represent, but a partner in the community we serve," he said.
With companies such as Vaerus Aviation and PTMW growing in Topeka and companies outside of Topeka such as Soave Automotive Group moving their business to the capital city, new jobs open up and money is recycled back into the local economy. For these companies, the City of Topeka was a choice location to make investments. Nobody shells out more than $20 million on a whim; they do it because they know setting up shop in Topeka is a sound business decision.